2022 Statewide Restorative Practices Conference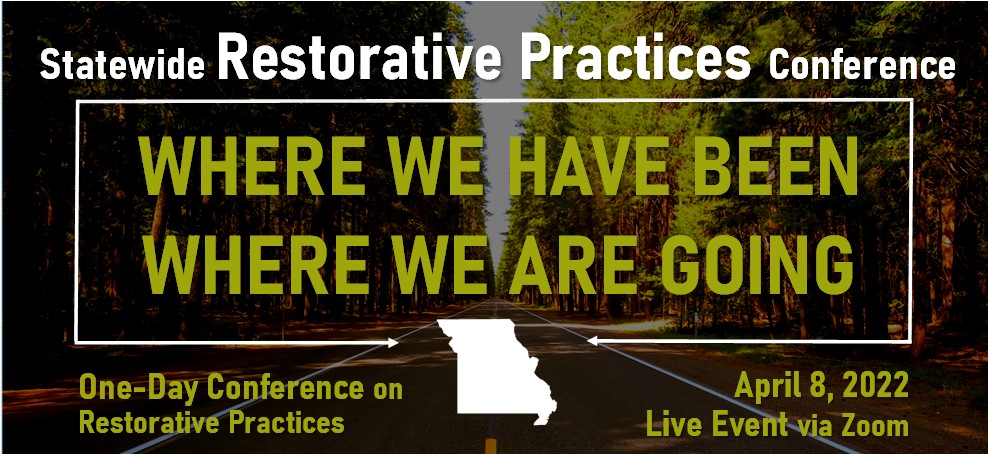 Statewide Restorative Practices Conference
"Where We Have Been, Where We Are Going: Restorative Practices in Missouri"
April 8, 2022, via Zoom
8:30 a.m. – 4:45 p.m.
Plan now to attend this day-long, live virtual event and take advantage of outstanding educational and networking opportunities.
This conference is designed for anyone with an interest in restorative practices, including educators, justice professionals, managers, human resource professionals, students, community members, faith leaders, mental health and social work practitioners, conflict professionals, and more.
Plenary sessions
Restorative Practices: Where We Have Been
Our morning plenary session will focus on "Restorative Practices: Where We Have Been" with Michael Gilbert, PhD. Michael is the former Executive Director of the National Association of Community and Restorative Justice. He also spent 26 years as a professor of criminal justice at the University of Texas at San Antonio after beginning his career in the criminal justice system.
Restorative Practices: Where We Are Going
Our afternoon plenary session will continue our theme, exploring the topic of "Restorative Practices: Where We Are Going" with Sheryl Wilson. Sheryl is the Executive Director of the Kansas Institute for Peace and Conflict Resolution and the President of the National Association of Community and Restorative Justice.
Topic-area keynotes
The conference will feature four keynote sessions on each of our topic areas:
Education
Hear from David Yusem, the Restorative Justice District Coordinator at Oakland Unified School District. In this role he supports schools across the district in implementing a culture shift through the use of restorative justice practices.
Organizations/Workplaces
Learn from Molly Rowan Leach, the founder of Restorative Justice on the Rise, a global virtual network and community of practitioners, academics, students, teachers, and citizens who are daily amplifying the movement within and beyond restorative justice. Molly will share her work training organizations in the use of restorative workplace practices.
Community
Learn about the work of Pathways to Restorative Communities (P2RC), a Boston-based organization applying restorative practices widely in their community and beyond. This keynote will include P2RC Partner Dr. Candace Julyan and Erin Freeborn, the Executive Director of Communities for Restorative Justice. Together they will share how volunteer community groups can work with the police, as well as a variety of other ways that churches, non-profits, and municipalities can use restorative practices to address conflict and harm.
Justice
Hear about the use of restorative practices in the courts and corrections from Kelly Dills, the Quality Assurance and Process Improvement Manager for the Missouri Department of Corrections.
Practitioner panels
Each keynote presentation will be followed by a panel of practitioners working across the state of Missouri and the region focused on each topic area: Community, Education, Organizations/Workplaces, and Justice.
Networking and connection
When you attend this live virtual event, you'll be able to connect directly with presenters, panelists, and other attendees, both in sessions and at networking events held mid-day and at the conclusion of the conference.
Continuing Education Credits
Earn continuing education at this event, which has been approved for the following:
7.2 hours of Missouri CLE credit
7 hours of Kansas CLE credit
6 hours of CE credit counselors and social workers
7 hours of Kansas CDRE credit
Other types of CE credit may be available – email CDR@MissouriState.edu for more information.
Registration information
Regular registration - $35
Student registration - $15
Need to register a group? Contact CDR@MissouriState.edu to make registration and payment arrangements.
Register now for this outstanding educational and networking event!
Questions?
Contact the Center for Dispute at CDR@MissouriState.edu or Dr. Charlene Berquist, Director of the Center for Dispute Resolution and President of the Missouri Restorative Justice Coalition at CharleneBerquist@MissouriState.edu.
Sponsored by the Missouri Restorative Justice Coalition and the Center for Dispute Resolution at Missouri State University.